Ultimate Series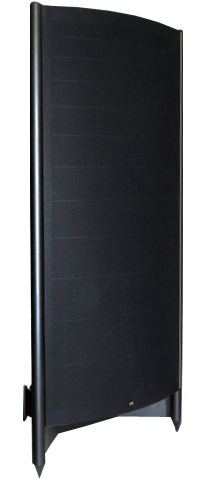 The Ultimate series employs a painted steel frame into which the electrostatic panel is integrated. The high mass and great strength of this frame insures that all of the vibrational energy of the membrane is converted to sound with virtually no energy being lost in the frame. The Ultimate frame has a space-age appearance that is very attractive in the modern motif. Toroidal II and Hot-Rod technologies are standard with the Ultimate series.
---
Majestic Series
The decor of some rooms is such that it is desired that the presence of the speakers be subdued. This series was designed to fulfill this need. The aesthetic of this series provides a simple appearance, using elegant wood trim only on the sides of the panels so as not to be obtrusive to the decor of the room. Toroidal II and Hot-Rod technologies are standard with the Majestic series.
---
Audiophile Series
For people who desire a rich wood framework we developed the Audiophile Series appearance. The electrostatic panels are wrapped in a beautiful furniture-grade frame that compliments the decor of any listening room. A broad range of woods are available. Painted piano-grade finishes are also available.
---
Home Theater
The excitement and enjoyment of a home theater system are greatly enhanced by electrostatic sound. From soft intimate sound to floor-shaking high-intensity sound, the Sound Lab home theater speakers will pull you into the action like "being there".
---